In 2005, Governor Mike Easley signed into law the North Carolina State Lottery Act and the 2005 Appropriations Act, creating the North Carolina Education Lottery. Since then, the lottery has generated more than $5.5 billion for education in North Carolina.
The lottery advertises that 100 percent of their profits benefit education, but how much is that really? Our readers want to know. Over the last month, our AskNC initiative received three different questions about the North Carolina Education Lottery:
Reader Butch Hamilton asked, "

What percentage of the lottery intake ACTUALLY goes to education? Isn't it true that it is not additional funds for education?"

Reader Donna Metcalf asked, "

What percent of the lottery money goes to schools now and where does the rest go?"

Reader Winn Decker asked, "

How is the break down of lottery revenue determined each year for different categories of educational spending?"
The short answer is state legislators determine how to spend the roughly 30 percent of lottery revenue allocated to educational spending. The rest goes to prize money, retailer compensation, and other expenses. The answer to whether the lottery has produced additional funds for education is not as clear cut.
History of the North Carolina Education Lottery
North Carolina is one of the more recent states to establish a state lottery. To date, only six states — Alabama, Alaska, Hawaii, Mississippi, Nevada, and Utah — do not host a lottery. However, the creation of North Carolina's lottery was not without controversy.
Lawmakers introduced legislation to create a state lottery as early as 1983 but experienced repeated opposition. Support for a lottery increased after North Carolina's neighboring states of Virginia, South Carolina, and Georgia established their own lotteries and North Carolina residents were traveling out of state to play.
Finally, in 2005, a Democrat-backed lottery bill passed the Senate after then-Lieutenant Governor Beverly Perdue cast the tie-breaking vote with two Republicans opposed to the bill absent. Democratic supporters argued the lottery would bring more money to education for pre-kindergarten, school construction, and financial aid while Republican opponents argued the lottery would prey on the poor and not actually increase funding for education.
The Center conducted extensive research on state lotteries before the legislation passed, which you can find here.
Breakdown of lottery proceeds
Lottery sales and funding for education have increased every year, according to a recent report from the Program Evaluation Division of the General Assembly.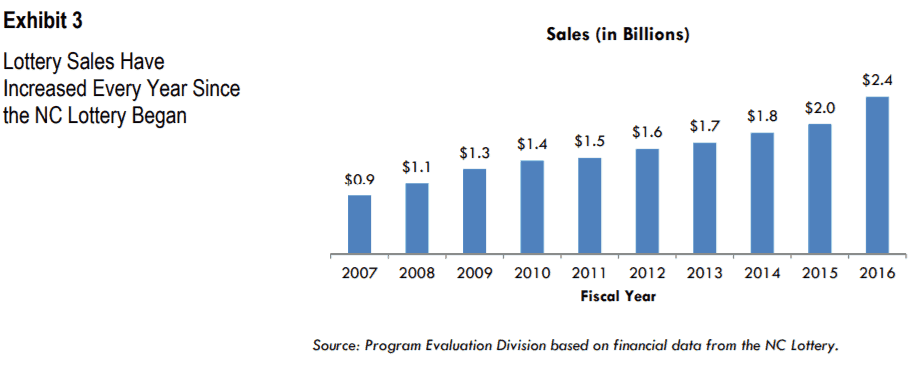 The original legislation stipulated that 35 percent of lottery proceeds must go to education. In 2007, the legislature changed the 35 percent requirement to a guideline, stating:
"The Commission shall allocate revenues to the North Carolina State Lottery Fund in order to increase and maximize the available revenues for education purposes, and to the extent practicable, shall adhere to the following guidelines:

(1) At least fifty percent (50%) of the total annual revenues, as described in this Chapter, shall be returned to the public in the form of prizes.

(2) At least thirty-five percent (35%) of the total annual revenues, as described in this Chapter, shall be transferred as provided in G.S. 18C-164.

(3) No more than eight percent (8%) of the total annual revenues, as described in this Chapter, shall be allocated for payment of expenses of the Lottery. Advertising expenses shall not exceed one percent (1%) of the total annual revenues.

(4) No more than seven percent (7%) of the total annual revenues, as described in this Chapter, shall be allocated for compensation paid to lottery game retailers."
In fiscal year 2016 lottery money was allocated as follows:
62.4 percent ($1.5 billion) to prize money
26.5 percent ($634 million) to education
7 percent ($168 million) to retailer compensation
4.1 percent ($97 million) to other expenses, including gaming systems, advertising, salaries/benefits, administrative, and DHHS/DOA/ALE
During the recession, Governor Perdue diverted $50 million in lottery proceeds to the General Fund to makeup for a budget shortfall, earning criticism and highlighting the fact that North Carolina has no legislation safeguarding lottery funds for strictly educational purposes. Gov. Perdue argued it was a justified use of the lottery funds because over half the General Fund went to education.
Breakdown of lottery proceeds allocated to education
The 2005 legislation stated lottery proceeds for education purposes would be allocated by the State Lottery Commission in the following manner: 50 percent for class-size reductions, 40 percent for school construction, and 10 percent for college scholarships. In 2013, lawmakers passed legislation giving themselves the power to allocate lottery proceeds for any education purposes, not just class-size reductions, school construction, and college scholarships.
In FY 2017, the majority of education lottery funding (63 percent) went to non-instructional support personnel, with 17 percent going to school construction, 13 percent to pre-kindergarten, 5 percent to college scholarships, and 2 percent to UNC need-based aid. The breakdown of lottery funding for education every year can be found here.
Because the state pays the salaries of teachers, teacher assistants, and non-instructional support personnel, most years the only lottery money counties receive directly is funding for school construction. For the first four years, counties received roughly 40 percent of the lottery proceeds for education for school construction, but after FY 2010, that number dropped to around 20 percent. Lottery distributions by county for 2017 can be found here.
Has the lottery increased education funding?
When the lottery legislation was first written, it stated, "The net revenues generated by the lottery shall not supplant revenues already expended or projected to be expended for those public purposes, and lottery net revenues shall supplement rather than be used as substitute funds for the total amount of money allocated for those public purposes." However, this sentence was removed right before voting, opening the door for legislators to use lottery revenues as a replacement for state funding.
Whether the lottery has actually increased education funding is a tricky question because we do not know what would have happened with education funding if the lottery did not exist. Critics argue lottery funding has supplanted state funding rather than supplemented it. However, per pupil spending has increased from $7,596.15 in 2006 when the lottery first started, to $9,172.18 in 2017, and supporters point to the fact that lottery revenue was used to pay for teacher salaries during the recession. Unfortunately, the effect of the recession on education funding makes it hard to evaluate the impact of the lottery.
AskNC